Afraid of traditional acupuncture treatment and being punctured by needles?
It's a painless acupuncture stimulation that activates tissues, firms sagging or aging skin, promotes blood circulation, detoxes the meridians, and helps reduce muscle pain.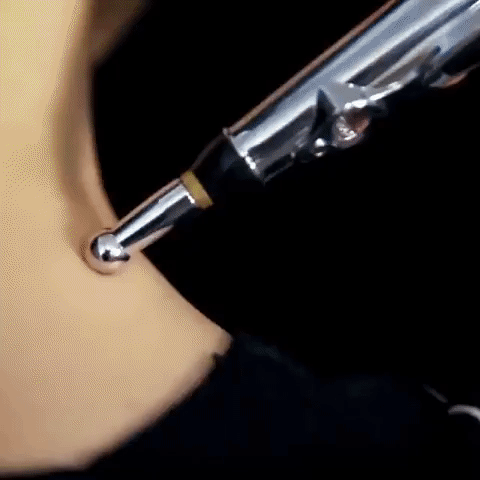 It is an Electronic Acupuncture Pen which comes with two removable massage heads and two cases of energy cream. The light weight and portable size makes it easy and convenient to carry and be used anytime and anyplace. It provides clean and painless stimulation for safe in home pain therapy.
Effective for:
Acute and chronic physical pain
Arthritis
Rheumatism
Osteoporosis
Sciatica
Spondylitis
Migraine
Sports injuries
Muscle & joint pains
Back pain
Fibromyalgia
BENEFITS:

Needle-less acupuncture:
There are no needles involved so there is no skin getting pierced, helping people who fear or dislike needles still get treatment. Simply press the pen onto sore or affected areas and it will release an electric pulse to stimulate the meridians and acupuncture points in your body for healing and pain relief.

Alternative treatment:
It has no side effects as opposed to using painkillers and other medications to treat chronic pain. It's great for treating acute and chronic physical pain, arthritis, rheumatism, osteoporosis, sciatica, migraine, sports injuries, and muscle, joint and back pains. 

Easy to use:
It only needs one AAA battery (not included) to function. It has a digital display that shows the strength of the electrical pulse output (0 - weakest and 6 - strongest). Simply press the start button to increase or decrease the strength of the electric pulse to immediately start treatment.

Including three special functions:
Dome type is superficial therapy applicable for health care and facial beautification. Node type is node therapy applicable for partial body pains. Spheroidal is partial therapy applicable for quickly alleviating pain.

Portable pain reliever:
It's lightweight so that you can easily put it in your pocket, bag, or pouch if you're traveling, or perhaps just going to work for a long day and need relief from your pain. Always have this with you whether travelling or on the go for immediate treatment.
THIS PEN HAS THREE OPERATION MODES:

(1) Dome Type: Superficial therapy, which is applicable for health-care and facial beautification.

(2) Node type: Node Therapy, which is applicable for partial body pains.

(3) Spheroidal Type: Partial therapy, which is applicable for quickly alleviating pain.



NO NEEDLES INVOLVED, GET YOURS NOW!
Package includes:
1 x Meridian Energy Pen
1 x Spheroidal Type Head
1 x Dome Type Head
1 x Manual
For any questions regarding our products or for assistance with your order, please email Hello
@randomella.com

 
and you should receive a response within one business day. If you are emailing about your order, please 
include the order number or the email/phone number used at checkout
 in your email.
We are proud to offer free worldwide shipping on all orders.
Standard International Shipping: 8-20 business days
All orders will be dispatched from our warehouse within 3 business days. In peak periods please allow for up to 6 business days for dispatch.

*All shipping times exclude clearance/customs delays